Experience and customer service are the two things I consider the most important in choosing a qualified Lake Texoma striper fishing guide. In my crew and I, you will find both and a lot more.
I have been fishing Lake Texoma for a long time and have been a Lake Texoma fishing guide for quite some time. We know the lake better than most striper fishing guides, and we use that experience to make your striper fishing trip memorable.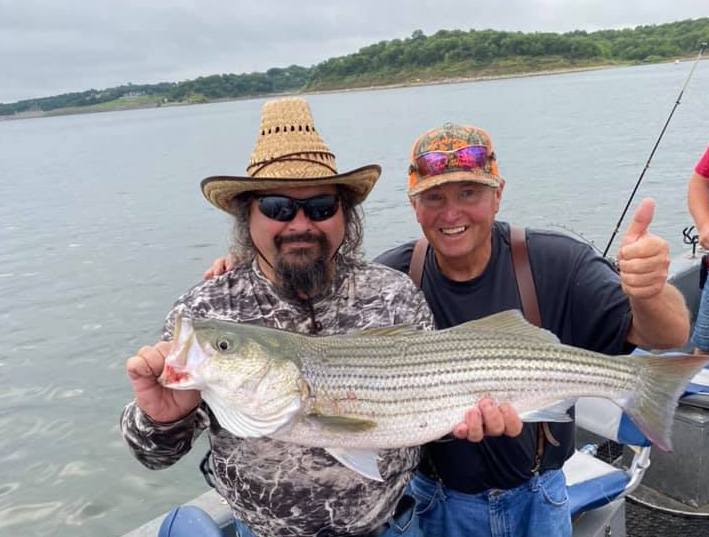 We were born to be Lake Texoma fishing guides. In addition to our experience as Lake Texoma striper fishing guides, we have the equipment and staff to handle parties of any size.
We understand there are many striper fishing guides for you to choose from on Lake Texoma but we take great pride in our customer service, and you will always find us with a great smile on our faces.
We know how important a great attitude is to any Lake Texoma striper fishing guide, and you'll find us to be hospitable, knowledgeable, and above all, eager to make your Lake Texoma striper fishing trip a great adventure.
About Larry "Sparky" Sparks
Hello Mate! We are Larry Sparks and Eddie Sparks, Sparky's Guide Service owners. Along with our Lake Texoma fishing guides, Mathew Trout, Shawn Summit, Dakota Summit, Vinny Tyree, and Nathan Trout, we welcome you to Lake Texoma. 
I'm known around the Lake as 'Sparky.' I want to be the first to welcome you to the world of striper fishing on Lake Texoma.
As a Lake Texoma fishing guide, I specialize in working with first-time fishermen (or women) and children. I have a proven record of quality fishing built on repeat customers. As my pictures, slideshows, and videos show, my trips are very successful, and most clients come back for more year after year.
Guided trips make wonderful gifts for Christmas, a birthday, Father's Day, or any other holiday. I provide gift certificates for these trips that you can purchase by calling us. If you are trying to plan a large group trip where other boats are needed, give me a call, and I will organize it for you.
Trips can be booked any day of the week on a first-come, first-served basis; if you want to reserve a particular weekend, call us, and we'll be happy to take care of you. I have repeat customers that book a year in advance to get specific dates, so I recommend you book your trip as soon as possible.
You are missing out if you have never experienced the thrill of catching a Lake Texoma striper. Fishing on Lake Texoma has never been better, and I guarantee you a fun-filled day on the lake.
As an experienced Lake Texoma Fishing Guide, I have to warn you;
Lake Texoma striper fishing can be addictive, and most return for more!
–Larry "Sparky" Sparks
Join our crew and us, and we will make your trip memorable and enjoyable.